I know I said I wouldn't do anymore hauls. I can't not do that. Everyone loves hauls. I'm just not going to take individual pictures for the books anymore. Just the one picture of all the books together. That should make this process a little bit easier on me.
Everything got so busy for a little bit. I was driving a lot and I literally had zero time to do anything. I'm slowly but surely getting back into the groove of things!
Here's my haul, I hope you enjoy it :)
Title: Remember Me Forever
Author: Sara Wolf
Purchase: Amazon ~ Kindle
SYNOPSIS:
Isis Blake hasn't fallen in love in three years, forty-three weeks, and two days. Or so she thinks.

The boy she maybe-sort-of-definitely loved and sort-of-maybe-definitely hated has dropped off the face of the planet in the face of tragedy, leaving a Jack Hunter–shaped hole. Determined to be happy, Isis fills it in with lies and puts on a brave smile for her new life at Ohio State University.

But the smile lasts only until he shows up. The menace from her past—her darkest secret, Nameless—is attending OSU right alongside her. And he's whispering that he has something Isis wants—something she needs to see to move forward. To move on.

Isis has always been able to pretend everything is okay. But not anymore.

Isis Blake might be good at putting herself back together.

But Jack Hunter is better.
Title: I'll Give You The Sun
Author: Jandy Nelson
Purchase: Amazon ~ Kindle
SYNOPSIS:
At first, Jude and her twin brother are NoahandJude; inseparable. Noah draws constantly and is falling in love with the charismatic boy next door, while daredevil Jude wears red-red lipstick, cliff-dives, and does all the talking for both of them.

Years later, they are barely speaking. Something has happened to change the twins in different yet equally devastating ways . . . but then Jude meets an intriguing, irresistible boy and a mysterious new mentor.

The early years are Noah's to tell; the later years are Jude's. But they each have only half the story, and if they can only find their way back to one another, they'll have a chance to remake their world.
Title: Illuminae
Author: Jay Kristoff, Amie Kaufman
Purchase: Amazon ~ Kindle
SYNOPSIS:
This morning, Kady thought breaking up with Ezra was the hardest thing she'd have to do. This afternoon, her planet was invaded.

The year is 2575, and two rival megacorporations are at war over a planet that's little more than an ice-covered speck at the edge of the universe. Too bad nobody thought to warn the people living on it. With enemy fire raining down on them, Kady and Ezra—who are barely even talking to each other—are forced to fight their way onto an evacuating fleet, with an enemy warship in hot pursuit.

But their problems are just getting started. A deadly plague has broken out and is mutating, with terrifying results; the fleet's AI, which should be protecting them, may actually be their enemy; and nobody in charge will say what's really going on. As Kady hacks into a tangled web of data to find the truth, it's clear only one person can help her bring it all to light: the ex-boyfriend she swore she'd never speak to again.
Title: Walking Disaster
Author: Jamie McGuire
Purchase: Amazon ~ Kindle
SYNOPSIS:
Can you love someone too much?

Travis Maddox learned two things from his mother before she died: Love hard. Fight harder.

In Walking Disaster, the life of Travis is full of fast women, underground gambling, and violence. But just when he thinks he is invincible, Abby Abernathy brings him to his knees.

Every story has two sides. In Beautiful Disaster, Abby had her say. Now it's time to see the story through Travis's eyes.
Title: Afterworlds
Author: Scott Westerfeld
Purchase: Amazon ~ Kindle
SYNOPSIS:
BELIEVING IS DANGEROUS...

Darcy Patel is afraid to believe all the hype. But it's really happening - her teen novel is getting published. Instead of heading to college, she's living in New York City, where she's welcomed into the dazzling world of YA publishing. That means book tours, parties with her favorite authors, and finding a place to live that won't leave her penniless. It means sleepless nights rewriting her first draft and struggling to find the perfect ending... all while dealing with the intoxicating, terrifying experience of falling in love - with another writer.

Told in alternating chapters is Darcy's novel, the thrilling story of Lizzie, who wills her way into the afterworld to survive a deadly terrorist attack. With survival comes the responsibility to guide the restless spirits that walk our world, including one ghost with whom she shares a surprising personal connection. But Lizzie's not alone in her new calling - she has counsel from a fellow spirit guide, a very desirable one, who is torn between wanting Lizzie and warning her that...

BELIEVING IS DANGEROUS.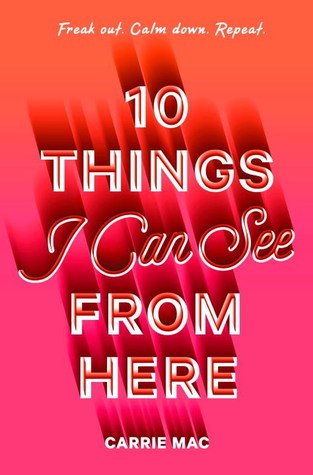 Title: 10 Things I Can See From Here
Author: Carrie Mac
Purchase: Amazon ~ Kindle
SYNOPSIS:
Think positive.
Don't worry; be happy.

Keep calm and carry on.

Maeve has heard it all before. She's been struggling with severe anxiety for a long time, and as much as she wishes it was something she could just talk herself out of, it's not. She constantly imagines the worst, composes obituaries in her head, and is always ready for things to fall apart. To add to her troubles, her mom—the only one who really gets what Maeve goes through—is leaving for six months, so Maeve will be sent to live with her dad in Vancouver.

Vancouver brings a slew of new worries, but Maeve finds brief moments of calm (as well as even more worries) with Salix, a local girl who doesn't seem to worry about anything. Between her dad's wavering sobriety, her very pregnant stepmom insisting on a home birth, and her bumbling courtship with Salix, this summer brings more catastrophes than even Maeve could have foreseen. Will she be able to navigate through all the chaos to be there for the people she loves?
Title: The Boy Most Likely To
Author: Huntley Fitzpatrick
Purchase: Amazon ~ Kindle
SYNOPSIS:
Tim Mason was The Boy Most Likely To:
- find the liquor cabinet blindfolded
- need a liver transplant
- drive his car into a house

Alice Garrett was The Girl Most Likely To:
- well, not date her little brother's baggage-burdened best friend, for starters.

For Tim, it wouldn't be smart to fall for Alice. For Alice, nothing could be scarier than falling for Tim. But Tim has never been known for making the smart choice, and Alice is starting to wonder if the "smart" choice is always the right one. When these two crash into each other, they crash hard.

Then the unexpected consequences of Tim's wild days come back to shock him. He finds himself in a situation that isn't all it appears to be, that he never could have predicted . . . but maybe should have.

And Alice is caught in the middle.

Told in Tim's and Alice's distinctive, disarming, entirely compelling voices, this return to the world of My Life Next Door is a story about failing first, trying again, and having to decide whether to risk it all once more.
Title: Cards From Khloe's Flower Shop
Author: Isabella Louise Anderson
Purchase: Amazon ~ Kindle
SYNOPSIS:
As the owner of a successful florist shop, Khloe Harper trusts her instincts. She has a strong bond with her family and friends, but after being betrayed by her last love, she's kept herself at arms' length from romance. When dashing entertainment attorney Derek Thomas walks into her store, Khloe's interest is piqued. What at first seems like a business relationship quickly turns into romance, and Derek slowly plucks away the petals she's been hiding behind. Just as Khloe lets down her guard, she discovers that Derek may not be worthy of her love after all.

Frumpy Connie Albright has a faux fascination with an imaginary man named Walt, thinking that by sending herself flowers from him she'll feel less out-of-place with the "mean girls" she works with. When she comes face to face with her possible prince charming and thinking she might have a happy ending, when a truth is revealed, she wonders if she'll ever have a Cinderella story.

A recently widowed senior, Gabby Lewis, isn't ready to give up on love—which means releasing herself from survivor's guilt and taking a chance on finding happiness and companionship again. After signing up for an online dating site for senior citizens, much to her surprise, she's matched with Harry, an energetic and loving man, who quickly eases himself into her heart. Will Gabby take the leap of falling in love again, knowing it's possible to have two loves of her life?

As each woman's story develops through flowers and cards sent from Khloe's shop during the Fall months, they begin to learn that love can only truly blossom when you trust your heart.
Title: Charmed By Charlie
Author: Amanda Uhl
Purchase: Amazon ~ Kindle
SYNOPSIS:
Everybody loves marketing whiz Charlie Solanger—except the woman he really wants.

Creative genius Charlie Solanger has it all: good looks, money, intelligence, charm. And when he swoops in to save Reynolds Paint Company with a brilliant marketing campaign, he has all the ladies in the office vying for his attention. Everyone except math whiz Valerie Wilson.

Val's not happy Charlie stole her promotion. Worse, his brand of flirtatious charm is reminiscent of her cheating ex-fiancé. So, how come she can't get him out of her head? The more she challenges him, the more interested—and interesting—he becomes. What secrets is Charlie hiding, and who or what is behind the sudden mysterious drain on their company's funds? The only way to find out is to join forces. Then it will be a battle of wills...and a triumph of hearts.
Title: The Disenchantments
Author: Nina LaCour
Purchase: Amazon ~ Kindle
SYNOPSIS:
Colby and Bev have a long-standing pact: graduate, hit the road with Bev's band, and then spend the year wandering around Europe. But moments after the tour kicks off, Bev makes a shocking announcement: she's abandoning their plans - and Colby - to start college in the fall.

But the show must go on and The Disenchantments weave through the Pacific Northwest, playing in small towns and dingy venues, while roadie- Colby struggles to deal with Bev's already-growing distance and the most important question of all: what's next?
Title: The Hand That Feeds You
Author: A.J. Rich
Purchase: Amazon ~ Kindle
SYNOPSIS:
Morgan, thirty, is completing her thesis on victim psychology and newly engaged to Bennett, a man more possessive than those she has dated in the past, but also more chivalrous—and the sex is hot. She returns from class one day to find Bennett brutally mauled to death, and her beloved dogs covered in blood.

When Morgan tries to locate Bennett's parents to tell them about their son's hideous death, she discovers that everything he has told her—where he was born, where he lives in Montreal, where he works—was a lie. He is not the man he said he was, and he had several fiancées, all believing the same promises he gave Morgan. And then, one by one, these other women are murdered. Morgan's research into Bennett has taken on new urgency: in order to stay alive, she must find out how an intelligent woman like herself, who studies predators, becomes a victim.
Title: The Raising
Author: Laura Kasischke
Purchase: Amazon ~ Kindle
SYNOPSIS:
Last year Godwin Honors Hall was draped in black. The university was mourning the loss of one of its own: Nicole Werner, a blond, beautiful, straight-A sorority sister tragically killed in a car accident that left her boyfriend, who was driving, remarkably—some say suspiciously—unscathed.

Although a year has passed, as winter begins and the nights darken, obsession with Nicole and her death reignites: She was so pretty. So sweet-tempered. So innocent. Too young to die.

Unless she didn't.

Because rumor has it that she's back.
Title: Road Trip Summer
Author: Lauren Barnholdt
Purchase: Amazon ~ Kindle
SYNOPSIS:
In Two-Way Street Jordan and Courtney are totally in love…that is until Jordan dumps Courtney out of the blue right before they're set to drive to college together. But it's too late to change plans, so the trip must go on as planned. Courtney's heartbroken, while Jordan's got a secret or two that he's not telling her. And the secret has everything to do with why they broke up, why they can't get back together—and why they're actually totally destined for each other.

In Right of Way Peyton and Jace meet on vacation and fall head over heels in love. But things don't go as planned and after a tumultuous break-up, they're thrown together on a road trip. One of them is lying about the destination. One of them is pretending not to be leaving something behind. And neither of them is prepared for what's coming on the road ahead…
Title: The Running Dream
Author: Wendelin Van Draanen
Purchase: Amazon ~ Kindle
SYNOPSIS:
Jessica thinks her life is over when she loses a leg in a car accident. She's not comforted by the news that she'll be able to walk with the help of a prosthetic leg. Who cares about walking when you live to run?

As she struggles to cope with crutches and a first cyborg-like prosthetic, Jessica feels oddly both in the spotlight and invisible. People who don't know what to say, act like she's not there. Which she could handle better if she weren't now keenly aware that she'd done the same thing herself to a girl with CP named Rosa. A girl who is going to tutor her through all the math she's missed. A girl who sees right into the heart of her.

With the support of family, friends, a coach, and her track teammates, Jessica may actually be able to run again. But that's not enough for her now. She doesn't just want to cross finish lines herself—she wants to take Rosa with her
Title: Sonnet Coupled
Author: Roxanne D. Howard
Purchase: Amazon ~ Kindle
SYNOPSIS:
Sheltered and cosseted, Sonnet Mendoza abided by her papi's wishes her whole life: no boys, studies first and always. Now an ER nurse in a busy Chicago hospital, medical school is so close Sonnet can taste it—just like her father always wanted. Just like she can taste all the things she wants, like Griffith Parker, the man of her dreams and her new housemate.

Working "graves" in a large hospital as a security guard while attending the police academy during the day doesn't leave ex-Marine Griffith Parker any personal time, but after meeting the beautiful Sonnet Mendoza business as usual is anything but. Sassy, smart…and interested in him, too? Except, she's made an art of keeping her distance, and she's been clear that her plans don't include him. But the heart wants what the heart wants. His wants Sonnet. He'll put it on the line to win her.
Title: Suicide Notes From Beautiful Girls
Author: Lynn Weingarten
Purchase: Amazon ~ Kindle
SYNOPSIS:
They say Delia burned herself to death in her stepfather's shed. They say it was suicide.

But June doesn't believe it.

June and Delia used to be closer than anything. Best friends in that way that comes before everyone else—before guys, before family. It was like being in love, but more. They had a billion secrets, tying them together like thin silk cords.

But one night a year ago, everything changed. June, Delia, and June's boyfriend, Ryan, were just having a little fun. Their good time got out of hand. And in the cold blue light of morning, June knew only this—things would never be the same again.

Now Delia is dead. June is certain she was murdered. And she owes it to her to find out the truth…which is far more complicated than she ever could have imagined.
Title: The Sweet Far Thing
Author: Libba Bray
Purchase: Amazon ~ Kindle
SYNOPSIS:
IT HAS BEEN A YEAR OF CHANGE since Gemma Doyle arrived at the foreboding Spence Academy. Her mother murdered, her father a laudanum addict, Gemma has relied on an unsuspected strength and has discovered an ability to travel to an enchanted world called the realms, where dark magic runs wild. Despite certain peril, Gemma has bound the magic to herself and forged unlikely new alliances. Now, as Gemma approaches her London debut, the time has come to test these bonds. The Order - the mysterious group her mother was once part of - is grappling for control of the realms, as is the Rakshana. Spence's burned East Wing is being rebuilt, but why now? Gemma and her friends see Pippa, but she is not the same. And their friendship faces its gravest trial as Gemma must decide once and for all what role she is meant for.
Title: The Unexpected Everything
Author: Morgan Matson
Purchase: Amazon ~ Kindle
SYNOPSIS:
Andie has a plan. And she always sticks to her plan.

Future? A top-tier medical school.
Dad? Avoid him as much as possible (which isn't that hard considering he's a Congressman and he's never around).
Friends? Palmer, Bri, and Toby—pretty much the most awesome people on the planet, who needs anyone else?
Relationships? No one's worth more than three weeks.

So it's no surprise that Andie has her summer all planned out too.

Until a political scandal costs Andie her summer pre-med internship, and lands both she and Dad back in the same house together for the first time in years. Suddenly she's doing things that aren't Andie at all—working as a dog walker, doing an epic scavenger hunt with her dad, and maybe, just maybe, letting the super cute Clark get closer than she expected. Palmer, Bri, and Toby tell her to embrace all the chaos, but can she really let go of her control?
Title: Until Friday Night
Author: Abbi Glines
Purchase: Amazon ~ Kindle
SYNOPSIS:
To everyone who knows him, West Ashby has always been that guy: the cocky, popular, way-too-handsome-for-his-own-good football god who led Lawton High to the state championships. But while West may be Big Man on Campus on the outside, on the inside he's battling the grief that comes with watching his father slowly die of cancer.

Two years ago, Maggie Carleton's life fell apart when her father murdered her mother. And after she told the police what happened, she stopped speaking and hasn't spoken since. Even the move to Lawton, Alabama, couldn't draw Maggie back out. So she stayed quiet, keeping her sorrow and her fractured heart hidden away.

As West's pain becomes too much to handle, he knows he needs to talk to someone about his father—so in the dark shadows of a post-game party, he opens up to the one girl who he knows won't tell anyone else.

West expected that talking about his dad would bring some relief, or at least a flood of emotions he couldn't control. But he never expected the quiet new girl to reply, to reveal a pain even deeper than his own—or for them to form a connection so strong that he couldn't ever let her go…
Title: A Walk To Remember
Author: Nicholas Sparks
Purchase: Amazon ~ Kindle
SYNOPSIS:
Every April, when the wind blows from the sea and mingles with the scent of lilacs, Landon Carter remembers his last year at Beaufort High. It was 1958, and Landon had already dated a girl or two. He even swore that he had once been in love. Certainly the last person in town he thought he'd fall for was Jamie Sullivan, the daughter of the town's Baptist minister.

A quiet girl who always carried a Bible with her schoolbooks, Jamie seemed content living in a world apart from the other teens. She took care of her widowed father, rescued hurt animals, and helped out at the local orphanage. No boy had ever asked her out. Landon would never have dreamed of it.

Then a twist of fate made Jamie his partner for the homecoming dance, and Landon Carter's life would never be the same. Being with Jamie would show him the depths of the human heart and lead him to a decision so stunning it would send him irrevocably on the road to manhood...
Title: What Alice Forgot
Author: Liane Morriarty
Purchase: Amazon ~ Kindle
SYNOPSIS:
Alice Love is twenty-nine, crazy about her husband, and pregnant with her first child.

So imagine Alice's surprise when she comes to on the floor of a gym and is whisked off to the hospital where she discovers the honeymoon is truly over — she's getting divorced, she has three kids and she's actually 39 years old. Alice must reconstruct the events of a lost decade, and find out whether it's possible to reconstruct her life at the same time. She has to figure out why her sister hardly talks to her, and how is it that she's become one of those super skinny moms with really expensive clothes.

Ultimately, Alice must discover whether forgetting is a blessing or a curse, and whether it's possible to start over.
Title: A Beautiful Wedding
Author: Jamie McGuire
Purchase: Amazon ~ Kindle
SYNOPSIS:
You know that Abby Abernathy unexpectedly became Mrs. Maddox. But what do you really know?

Why did Abby pop the question?
What secrets were shared before the ceremony?
Where did they spend their wedding night?
Who else knew about it . . . and didn't tell?

Everything about Abby and Travis's elopement was top-secret . . . until now. Fans of Beautiful Disaster and Walking Disaster will get all of their questions answered in this whirlwind tale of the wedding day (and night!)—and as with all good stories, this one will definitely have been worth the wait.
Title: Alex, Approximately
Author: Jenn Bennett
Purchase: Amazon ~ Kindle
SYNOPSIS:
The one guy Bailey Rydell can't stand is actually the boy of her dreams—she just doesn't know it yet.

Classic movie fan Bailey "Mink" Rydell has spent months crushing on a witty film geek she only knows online as Alex. Two coasts separate the teens until Bailey moves in with her dad, who lives in the same California surfing town as her online crush.

Faced with doubts (what if he's a creep in real life—or worse?), Bailey doesn't tell Alex she's moved to his hometown. Or that she's landed a job at the local tourist-trap museum. Or that she's being heckled daily by the irritatingly hot museum security guard, Porter Roth—a.k.a. her new archnemesis. But life is whole lot messier than the movies, especially when Bailey discovers that tricky fine line between hate, love, and whatever it is she's starting to feel for Porter.

And as the summer months go by, Bailey must choose whether to cling to a dreamy online fantasy in Alex or take a risk on an imperfect reality with Porter. The choice is both simpler and more complicated than she realizes, because Porter Roth is hiding a secret of his own: Porter is Alex…Approximately.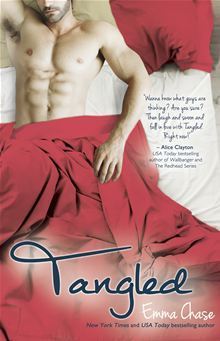 Title: Tangled
Author: Emma Chase
Purchase: Amazon ~ Kindle
SYNOPSIS:
Drew Evans is a winner. Handsome and arrogant, he makes multimillion dollar business deals and seduces New York's most beautiful women with just a smile. He has loyal friends and an indulgent family. So why has he been shuttered in his apartment for seven days, miserable and depressed?

He'll tell you he has the flu.

But we all know that's not really true.

Katherine Brooks is brilliant, beautiful and ambitious. She refuses to let anything - or anyone - derail her path to success. When Kate is hired as the new associate at Drew's father's investment banking firm, every aspect of the dashing playboy's life is thrown into a tailspin. The professional competition she brings is unnerving, his attraction to her is distracting, his failure to entice her into his bed is exasperating.

Then, just when Drew is on the cusp of having everything he wants, his overblown confidence threatens to ruin it all. Will he be able untangle his feelings of lust and tenderness, frustration and fulfillment? Will he rise to the most important challenge of his life?

Can Drew Evans win at love?

Tangled is not your mother's romance novel. It is an outrageous, passionate, witty narrative about a man who knows a lot about women…just not as much as he thinks he knows. As he tells his story, Drew learns the one thing he never wanted in life, is the only thing he can't live without.
Title: Damage Done
Author: Amanda Panitch
Purchase: Amazon ~ Kindle
SYNOPSIS:
22 minutes separate Julia Vann's before and after.

Before: Julia had a twin brother, a boyfriend, and a best friend.

After: She has a new identity, a new hometown, and memories of those twenty-two minutes that refuse to come into focus. At least, that's what she tells the police.

Now that she's Lucy Black, she's able to begin again. She's even getting used to the empty bedroom where her brother should be. And her fresh start has attracted the attention of one of the hottest guys in school, a boy who will do anything to protect her. But when someone much more dangerous also takes notice, Lucy's forced to confront the dark secrets she thought were safely left behind.

One thing is clear: The damage done can never be erased. It's only just beginning. . . .
Title: Promise Bound
Author: Anne Greenwood Brown
Purchase: Amazon ~ Kindle
SYNOPSIS:
Calder and Lily never imagined falling in love would mean breaking apart. But ever since Lily started wearing a glass pendant that once belonged to Nadia, Calder's adoptive mother, she's been having vivid dreams of what life was like for the mermaid matriarch. In fact, she's been dreaming as if she were Nadia! And Nadia, it seems, made a promise before her death. A promise to reunite Calder's biological mother with her son. Lily knows merfolk are bound to keep their promises. Calder's not buying into it, though. He chalks up the dreams to stress. He wants Lily to focus on the future—their future, not the past. Which forces Lily to send Calder away. Calder goes, feeling rejected and more than a little tempted to revert to his hunting ways.

What both of them overlook is the present: Calder's sisters, Maris and Pavati, are fighting for control of the mermaid clan, and now that Lily and her dad have transformed into mer-creatures, both mermaids vie for daughter and father as allies. Which of the two mermaids can be trusted? Will Lily make costly mistakes, forcing her to descend to the depths of Lake Superior? And if Calder returns, will he be the same merman Lily grew to love? The stakes are high, with many lives at risk, but Calder and Lily must confront the past as well as their darkest impulses if they want a chance at being together.
Title: Very In Pieces
Author: Megan Frazer Blakemore
Purchase: Amazon ~ Kindle
SYNOPSIS:
Very Sales-Woodruff is done being a good girl. Done being the only responsible one in a family that's unraveling. Done being the obliging girlfriend in a relationship that's sinking. Done saying no to what she wants—like Dominic, her rebellious classmate.

With her mom's drinking, her dad's extended absences from home, and her younger sister, Ramona, running wild, the path Very has always seen for herself doesn't seem to matter anymore. At the same time, Very's grandmother, a poet known less for her work and more for her exploits with the likes of Andy Warhol and Arthur Miller, is slipping away.

If everything else can fall to pieces, why can't she?
Title: Switched
Author: Amanda Hocking
Purchase: Amazon ~ Kindle
SYNOPSIS:
When Wendy Everly was six-years-old, her mother was convinced she was a monster and tried to kill her. It isn't until eleven years later that Wendy discovers her mother might have been right.

With the help of Finn Holmes, Wendy finds herself in a world she never knew existed - a world both beautiful and frightening, and Wendy's not sure she wants to be a part of it.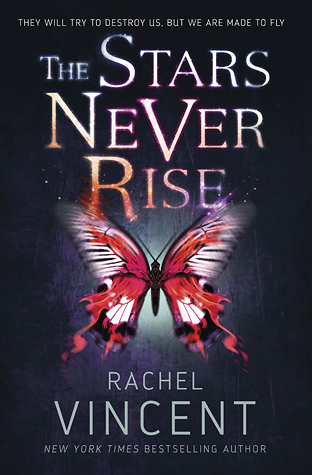 Title: The Stars Never Rise
Author: Rachel Vincent
Purchase: Amazon ~ Kindle
SYNOPSIS:
Sixteen-year-old Nina Kane should be worrying about her immortal soul, but she's too busy trying to actually survive. Her town's population has been decimated by soul-consuming demons, and souls are in short supply. Watching over her younger sister, Mellie, and scraping together food and money are all that matters. The two of them are a family. They gave up on their deadbeat mom a long time ago.

When Nina discovers that Mellie is keeping a secret that threatens their very existence, she'll do anything to protect her. Because in New Temperance, sins are prosecuted as crimes by the brutal Church and its army of black-robed exorcists. And Mellie's sin has put her in serious trouble.

To keep them both alive, Nina will need to trust Finn, a fugitive with deep green eyes who has already saved her life once and who might just be an exorcist. But what kind of exorcist wears a hoodie?

Wanted by the Church and hunted by dark forces, Nina knows she can't survive on her own. She needs Finn and his group of rogue friends just as much as they need her.