I don't know how I did it, but I managed to read six books this month. I am amazed with myself this month! According to Goodreads, I'm two books ahead of schedule for my goal. This years has started off pretty freaking great!!!
How many books did you guys read this month?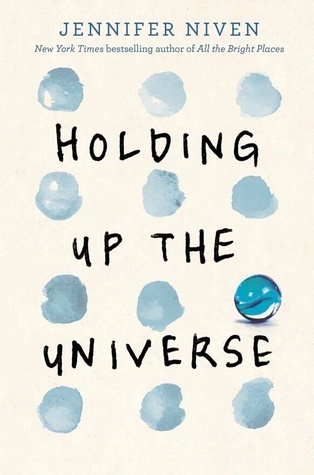 Title: Holding Up The Universe
Author: Jennifer Niven
Purchase: Amazon ~ Kindle
My Review
Rating:

☆☆☆☆☆
Synopsis:
Everyone thinks they know Libby Strout, the girl once dubbed "America's Fattest Teen." But no one's taken the time to look past her weight to get to know who she really is. Following her mom's death, she's been picking up the pieces in the privacy of her home, dealing with her heartbroken father and her own grief. Now, Libby's ready: for high school, for new friends, for love, and for every possibility life has to offer. In that moment, I know the part I want to play here at MVB High. I want to be the girl who can do anything.

Everyone thinks they know Jack Masselin, too. Yes, he's got swagger, but he's also mastered the impossible art of giving people what they want, of fitting in. What no one knows is that Jack has a newly acquired secret: he can't recognize faces. Even his own brothers are strangers to him. He's the guy who can re-engineer and rebuild anything, but he can't understand what's going on with the inner workings of his brain. So he tells himself to play it cool: Be charming. Be hilarious. Don't get too close to anyone.
Title: Royally Screwed
Author: Emma Chase
Purchase: Amazon ~ Kindle
My Review
Rating:

☆☆☆☆☆
Synopsis:
Nicholas Arthur Frederick Edward Pembrook, Crowned Prince of Wessco, aka His Royal Hotness, is wickedly charming, devastatingly handsome, and unabashedly arrogant; hard not to be when people are constantly bowing down to you.

Then, one snowy night in Manhattan, the prince meets a dark haired beauty who doesn't bow down. Instead, she throws a pie in his face.

Nicholas wants to find out if she tastes as good as her pie, and this heir apparent is used to getting what he wants.

Dating a prince isn't what waitress Olivia Hammond ever imagined it would be.

There's a disapproving queen, a wildly inappropriate spare heir, relentless paparazzi, and brutal public scrutiny. While they've traded in horse drawn carriages for Rolls Royces, and haven't chopped anyone's head off lately, the royals are far from accepting of this commoner.

But to Olivia, Nicholas is worth it.

Nicholas grew up with the whole world watching, and now Marriage Watch is in full force. In the end, Nicholas has to decide who he is and, more importantly, who he wants to be: a King... or the man who gets to love Olivia forever.
Title: One Of Us Is Lying
Author: Karen M. McManus
Purchase: Amazon ~ Kindle
My Review
Rating:

☆☆☆☆☆
Synopsis:

Pay close attention and you might solve this.
On Monday afternoon, five students at Bayview High walk into detention.
Bronwyn, the brain, is Yale-bound and never breaks a rule.
Addy, the beauty, is the picture-perfect homecoming princess.
Nate, the criminal, is already on probation for dealing.
Cooper, the athlete, is the all-star baseball pitcher.
And Simon, the outcast, is the creator of Bayview High's notorious gossip app.

Only, Simon never makes it out of that classroom. Before the end of detention Simon's dead. And according to investigators, his death wasn't an accident. On Monday, he died. But on Tuesday, he'd planned to post juicy reveals about all four of his high-profile classmates, which makes all four of them suspects in his murder. Or are they the perfect patsies for a killer who's still on the loose?

Everyone has secrets, right? What really matters is how far you would go to protect them.
Title: All At Once
Author: Vera Mae
Genre: Romance
Pages: 277
Chapters: 17
Started: 01/15/2017
Finished: 01/20/2017
Rating: ☆☆☆☆
My Review
Purchase: Amazon ~ Kindle
Synopsis:
Jayne meets Lyel, the hottest star on television, in an elevator. When the lift lurches to a stop mid-ride, they share a candid exchange before Jayne faints, waking minutes later on the floor in Lyel's arms. It takes less than fifteen minutes for the cords of love to tighten, and Lyel pursues Jayne, having fallen utterly and completely in love. But Lyel has a secret, and after he spends three inseparable days with Jayne, he disappears into thin air. Jayne is shattered, left to mend the heart Lyel's torn to pieces. Then, as though he'd never parted from her, Lyel returns and confesses his truth.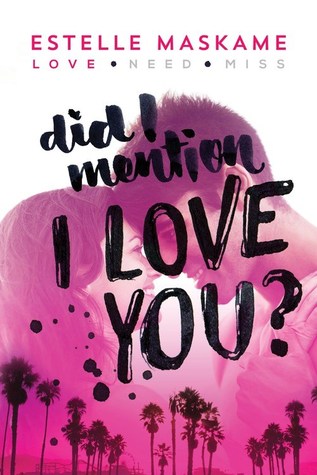 Title: Did I Mention I Love You?
Author: Estelle Maskame
Genre: YA Fiction, Romance, Contemporary
Pages: 393
Chapters: 30
Started: 01/21/2017
Finished: 01/23/2017
Purchase: Amazon ~ Kindle
My Review
Rating: ☆☆☆☆☆
Synopsis:
Love is everything but expected.

Eden Munro came to California for a summer of sun, sand, and celebrities—what better way to forget about the drama back home? Until she meets her new family of strangers: a dad she hasn't seen in three years, a stepmom, and three stepbrothers.

Eden gets her own room in her dad's fancy house in Santa Monica. A room right next door to her oldest stepbrother, Tyler Bruce. Whom she cannot stand. He has angry green eyes and an ego bigger than a Beverly Hills mansion. She's never felt such intense dislike for someone. But the two are constantly thrown together as his group of friends pulls her into their world of rule-breaking, partying, and pier-hanging.

And the more she tries to understand what makes Tyler burn hotter than the California sun, the more Eden finds herself falling for the one person she shouldn't love…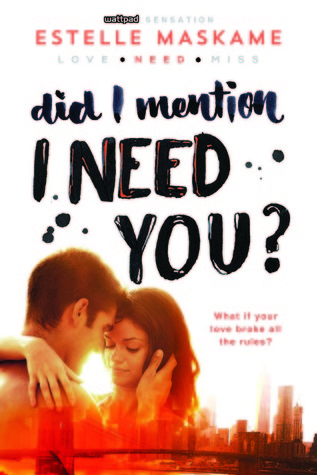 Title: Did I Mention I Love You
Author: Estalle Maskame
Genre: YA, Contempory, Romance
Pages: 352
Chapters: 31
Started: 01/24/2017
Finished: 0/25/2017
Purchase: Amazon ~ Kindle
My Review
Rating: ☆☆☆☆☆
Synopsis:
Love has no rules.

It's been a year since Eden Munro last saw Tyler Bruce: her stepbrother…and secret love. Although they swore to ignore their feelings and put their family first, Eden can't help but feel excited when Tyler invites her to join him in New York City for the summer.

But it's not like anything is going to happen. Eden is happy with her boyfriend Dean, and she knows gorgeous, green-eyed Tyler must have moved on as well. But as they spend the long, hot summer in the city that never sleeps, it becomes obvious that those old feelings are still there…simmering beneath the surface. Will Tyler and Eden be able to resist temptation?